Here you can purchase all kinds of Gary Flanagan related goodies. Below you will find links to my PayPal account, which is what I prefer to accept payments. However, if you do not have a credit card or you would rather not order through the internet, please contact me and we can work out some sort of transaction through regular mail. muzikman84@hotmail.com
The following prices INCLUDE shipping and handling. ALL PRICES ARE IN CANADIAN CURRENCY.
PLEASE READ:
If you don't like to order through PayPal, or if you don't have a credit card, or if you don't trust the internet, I would be more than happy to sell you my CD through conventional mail order. Please e-mail me and I will arrange to sell you the CD through mail order. Thanks!
muzikman84@hotmail.com
MP3 PACKAGE DEAL!!!!!!
Yes, for a VERY limited time, I am offering an amazing MP3 package deal. For the low, low price of $15.00, you can get MP3 versions of 5 (that's right, 5!) of my recordings. This includes "The Licorice EP", "Rhapsody In Black", "Reclusive Mute", "Damariscotta" and "Europe". That's 4 full length CDs and an EP!
I will also give you a choice: you can have all these albums on a CDR in MP3 format, OR you can choose to download them. It's entirely up to you! Just let me know if you would prefer all the MP3s on a CDR or if you want download links.
Get this while you can! Only good for a very limited time!!!
| | |
| --- | --- |
| | Includes "The Licorice EP", "Rhapsody In Black", "Reclusive Mute", "Damariscotta" and "Europe". PLEASE SPECIFY IF YOU WANT MP3s ON A CDR OR IF YOU WANT TO DOWNLOAD THEM. |
"Almost Ambient Territory" is my latest collaboration with my good friend Francois Marceau. We recorded this a couple of years ago, and it is finally being released now. This is a very unique, wonderfully bizaare collection of ambient soundscapes. Guaranteed to take you away to other worlds and atmospheres. $7.00 Postage Included.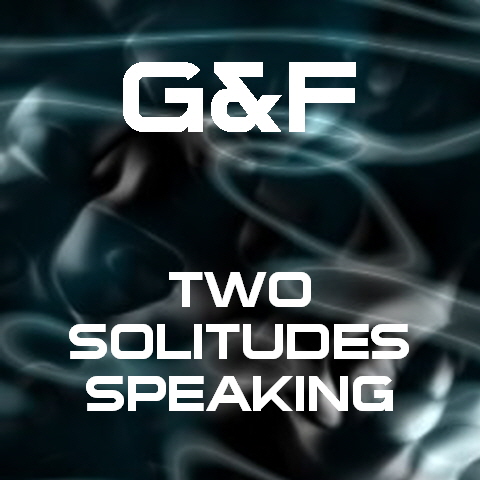 "Two Solitudes Speaking" is a collaboration between Gary Flanagan and Francois Marceau. It is a collection of spoken word pieces, featuring the poetry of both artists. Gary added soundscapes to Francois' spoken word recordings, and Francois did the same with Gary's. Overall a highly unique, artful and brave experimental recording. Just $7.00, postage included.
"TWO SOLITUDES STANDING"- G&F. This is a collaboration that I did with my good friend Francois who lives in Montreal. We wanted to do a weird noise project and this is what we came up with. This is a bizarre mix of found sound, processed noises, loops, bleeps, scratches, atmospherics, machines dying, and total strangeness. CDR. $7.00.
PACKAGE DEAL!!!
For a limited time, get the Gary Flanagan "Package Deal". This includes his CD "Rhapsody In Black", his 2004 EP "The Licorice EP" and a Gary Flanagan button, all for $12 (postage included)!!! Order now!
Buy package here: